I would love to have my patio encircled with built in planters. Hardscape is central to any good garden design, and frankly, I can't think of a better project than a garden element that is a constantly changing landscape! Built in planters would make it easy to change your container plants with the season, experiment with new types of plants, and  even grow edibles close enough to the house to make it an easy harvest. All without having to haul out all the pots in the spring, and store them in the winter…
So until I get a built in planter project on mine and Steve's calendar, here are some inspiring ideas, and a DIY project or two to get you going on creating a permanent, but always changing container garden – built in! Our feature photo, above, is from 'Garden Club London'.
'HGTV' brings us this inspiring built in planter bench from the book, 'How to Grow Practically Anything'.
From 'Family Handyman' the deck of your dreams includes, of course, built in planters!
'Thomas Tree Carpentry' made these built in planters following the steps of a newly constructed deck.
'Green Haven Designs' knows what you put into your built in can make a big difference in style.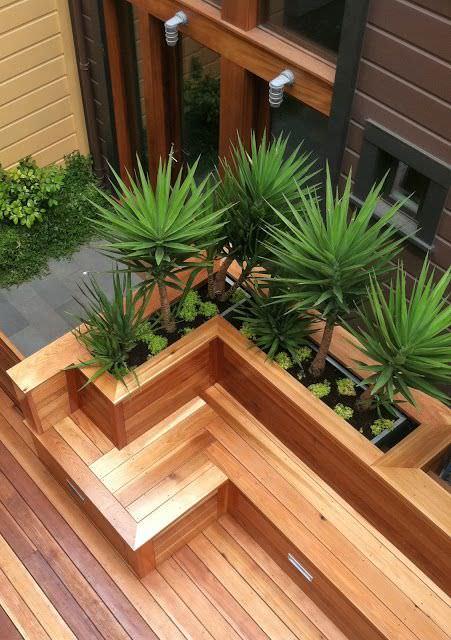 '900 House' brings us this contemporary garden… I like how the built in planter separates different areas – good design!
These planters are made from rail ties, from 'Garden Gurus'…
From 'Dwell', these built in planters are simply part of the poured concrete patio.
Finally, we have a DIY project for you! This Park Avenue bench and planter by 'Concrete Exchange' has detailed instructions. This is a high end detail for your garden, and the instructions are very thorough.